Joyce Torchia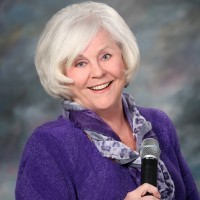 Retired from United Airlines after 36 years of service in 2005, including 4 yrs as a "stewardess" ( I was before flight attendants!). I love singing and began performing in front of audiences in high school musicals many, many moons ago. My children became my audience and quickly tired of my performing in the living room, so I became a shower singer.
In 1997 my girlfriends challenged me to sing at a Karaoke bar. I was smitten. I sang every chance I got. I got to sing several times on stage at Bushwackers Saloon when the original "Renegade" band performed. Then I became a regular at the Bluffs Run Casino Talent Show, where I had my share of wins and losses. That is where I met Mr. Entertainment himself, Joe Taylor. He suggested I audition for the Intergeneration Orchestra with Chuck Pennington, and I've been a member now for several yrs.
The "stage" has always been my calling, and after many years away from it I was offered a part in the musical "From Generation to Generation" in 2004 at the Jewish Community Center. Welllllll…..as they say I was hooked. My big dream, however, was to perform on stage at the Omaha Community Playhouse. That dream came true when I played Mrs. Pugh in their production of "Annie". Rotater cuff surgery kept me from performing until I was introduced to Merrymakers . I have had a ball ever since. I even was given another opportunity to perform at the Omaha Community Playhouse as Molly McGregor/Susan Hershey in "The Full Monty".
We're sorry, but all tickets sales have ended because the event is expired.
May 4, 2021
2:00 pm - 3:00 pm

2205 S. 10th St

,

Omaha

,

Nebraksa

,

68108

,

United States

Brought to you by The MerryMakers Association
(402) 697-0205 | www.merrymakers.org