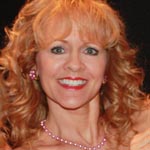 Location:
Date:
Time:
Brought to you by The MerryMakers Association
(402) 697-0205 | www.merrymakers.org
Cynthia Ziesman, delivers a theme performance with pizzazz! "The best one woman show I've ever seen," stated one dad at a recent Father's Day Celebration. "She shines and touches everyone in the room!" A versatile songstress, Cynthia captivates audiences of all ages as she travels the country and headlines her own cabaret revue. Choose from over 30 themed 'musical revusicals' to celebrate any party, holiday, or event on your calendar. Her flashy, upbeat performances include singing, dancing, bright costumes, a little comedy, and a whole lot of audience participation to make everyone a part of the show.
Cynthia has been singing professionally her entire adult life. A Carnival Cruise Ship entertainer for seven years, she has also appeared in regional show productions including five years in the Crown Center Shops for Hallmark Cards, three seasons as a singer/dancer at World's of Fun Theme Park, and three years at the old Waldo Astoria Dinner Theater. Now based out of Kansas City, Cynthia has worn many different hats in the entertainment industry including directing, costuming, studio recordings, children's shows, band singer, and over twenty years teaching group and private singing lessons to kids. When she's not performing, Cynthia loves swing dancing!
Cynthia also hires out as a costume character and get kids movin' & groovin' at youth dances, library programs, and special school events around the nation. "Cynthia can turn the dullest afternoon into instant fun." (Ames, IA) She currently sings well-loved close-harmony songs of the 40's & 50's with professional trio Triple Delight, "the hottest ticket in town that'll bring the house down. Thrill to this multi-talented and beautiful singing group with their unique stage show, tight harmonies, lavish costumes, and slick choreography." (Monticello, FL)
Click To Show Cynthia Ziesman's Past Events