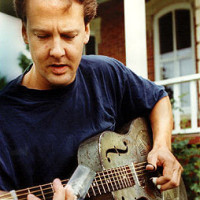 Location:
Date:
Time:
Brought to you by The MerryMakers Association
(402) 697-0205 | www.merrymakers.org
Rob received his musical education in the bars on Forest Avenue in Des Moines, Iowa. Rose Marie Webster, Luther Allison, Sonny Terry and Brownie McGhee were some of the musicians he bugged till they let him sit in on harp or guitar .
He joined The Wapsie River Band in 1980. Barnstormed the Midwest with them for ten years.
In 1990 he went back to playing solo. Opening up for Lyle Lovett, The Band, The Austin Lounge Lizards, Dan Hicks, Jerry Jeff Walker, Norman Blake, Steve Forbert, Leon Redbone, and countless Blues acts that came through the area. This coupled with a weekly gig at Flanagan's, enabled Rob to record a couple of CDs on the Hot Fudge label. He was also a part of the trio Two Bobs and a Babe which included Hot Fudge label-mates Bob Dorr and Molly Nova.
Rob's music is Blues/Folk based. You might find him covering a Jazz standard, Robert Johnson, Lyle Lovett or doing a set of his own tunes. His finger-picking guitar style can be traced back to Hot Tuna, Doc Watson and Piedmont Blues. His slide playing is influenced by Johnny Winter, Lowell George and Ry Cooder. For slide he uses a '29 National, for most of the regular guitar work, a '35 Epiphone archtop. His songwriting has been heavily influenced by the Texas songwriters and is laced with self-deprecating humor.
This year he'll be playing festivals, bar rooms, restaurants, churches, private parties from here to Rabbit Hash, Kentucky. Mostly a solo act but he also plays guitar for The CJC Big Band, and The Party Gras Classic Jazz Band. Rob's songs can be heard on KUNI and KFMG radio. His music has appeared in several Public Television projects, which have received EMMY, and other awards.
Rob is a member of the Central Iowa Blues Society and has participated in their Blues in the Schools program.
Rob Lumbard\'s Upcoming Events