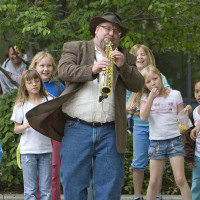 Location:
Date:
Time:
Brought to you by The MerryMakers Association
(402) 697-0205 | www.merrymakers.org
Tim Javorsky has always had a passion for entertaining people. To fulfill this passion, while in college studying classical saxophone and voice, he started a DJ service, entertaining people at school functions, weddings, etc. After leaving school for the "real world," Tim still continued his entertaining ways and also started a pep band. After meeting his wife, Dorothy, she encouraged his involvement in other musical endeavors such as Pinewood Bowl pit orchestra, Lincoln Civic Orchestra, and the Lincoln Community Concert Band.
Tim likes to emulate his many jazz influences such as Louie Armstrong, Stan Getz, Paul Desmond, David Sanborn, Gerry Mulligan, Stanley Turrentine, and Grover Washington, Jr. Still longing for the freedom that jazz music allows, Tim decided to start his own group, Sarabande Jazz. With these varied performance options, Tim performs several hundred times a year…and he looks forward to entertaining crowds at a Merrymaker location in the near future!
Tim Javorsky's Upcoming Events
Click To Show Tim Javorsky's Past Events