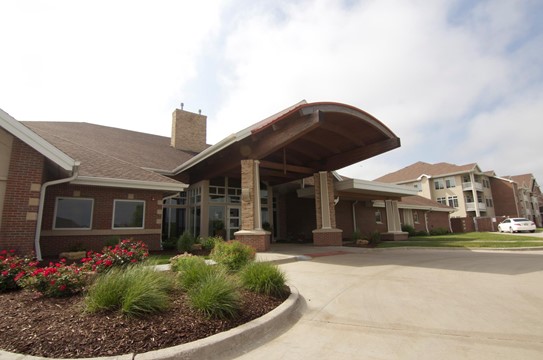 At Elk Ridge Village Retirement Community in Elkhorn, NE, you and your loved ones can have a peace of mind and enjoy life with our comfortable, worry-free senior living options that provide incredible meals, scheduled transportation, and daily activities to help residents stay active and healthy.
Our Independent Living is wonderful and welcoming! It is for seniors who are looking for a community that provides helpful amenities and enough space to move around in will find it in our incredible independent living community. We're here to take the weight of living on your own or away from loved ones off your shoulders and help you get back to loving the life you live!
We also welcome those looking for an Assisted Living or Special memory Care.  This gorgeous part of our community is designed for you or a loved one that require any help, from medication reminders to navigating through the activities of daily life, our team of trained caregivers in the assisted living community is here for you! Our community allows you to live as independently as you want, but help will always be nearby.
Upcoming Events at Elk Ridge Village Independent Living
Click To Show Past Events at Elk Ridge Village Independent Living
Pam Kragt is a multi-talented performer who has lived in the Oma...

December 26, 2019
3:30 am

- 4:30 am

Elk Ridge Village Independent Living

Retired from United Airlines after 36 years of service in 2005, including 4 yrs as a "stewardess" ( I was before flight attendants!). I ...

February 14, 2020
7:00 pm

- 8:00 pm

Elk Ridge Village Independent Living
19303 Seward Plaza
Elkhorn, Nebraska 68022
(Laura Stewart)
Sponsors
Sponsor this facility today!