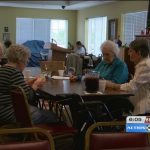 Ralston Senior Center, located in Ralston, Nebraska provides the following services: Senior Center. Ralston Senior Center has a very good hospital, Alegent Health Bergan Mercy Medical Center, located nearby, which scored a 88 out of 100 in its most recent Medicare review. The Ralston Senior Center\'s nearest hospital is 2 miles away. The zipcode (68127) in Nebraska, where Ralston Senior Center is located, has a below average safety rating based on recent crime statistics.
Ralston Senior Center is a Senior Center. Senior centers are often lively places that bring together older adults who want to be engaged in their communities and with their peers. Senior centers provide the services older adults need to be healthy, happy and as independent as they can be. More than 10 million Americans take part in activities through the 15,000 senior centers around the country. Senior centers offer a wide range of services and activities for older adults. At most senior centers, you can have a meal, make friends, get fit, take a class, be creative, get a ride, get help, have fun, help out and more.
Senior Centers play a vital role. They help create and environment that encourages a senior to interact with others, get out of the house on a regular basis, and enjoy themselves. They can be an important element of a healthy aging-in-place strategy for an aging loved one. To find the exact services, hours of operation, and qualifications, please contact the center directly.
Upcoming Events at Ralston Senior Center
Pam Kragt is a multi-talented performer who has lived in the Oma...

September 11, 2019
12:00 pm

- 1:00 pm

Ralston Senior Center

This musical duo is part of the music and comedy group "THE LINKS". For years "THE LINKS" were based out of Reno, Nevada and perform...

November 6, 2019
12:00 pm

- 1:00 pm

Ralston Senior Center
Click To Show Past Events at Ralston Senior Center
7301 Q Street
Ralston, NE 68127
(Ila Hossler)
Sponsors
Sponsor this facility today!