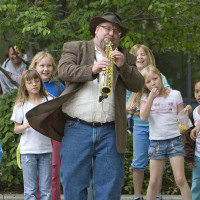 Location:
Date:
Time:

Brought to you by The MerryMakers Association
(402) 697-0205 | www.merrymakers.org
Tim Javorsky is all about the numbers. His wife Dorothy calls him a triple threat: Saxophonist, singer, and bandleader. He not only plays alto and tenor sax, but soprano and baritone as well. Tim is also a vocal chameleon that can channel Louis "Satchmo" Armstrong, Elvis, Frank Sinatra, or whatever styling suits the music.
Tim Javorsky\'s Upcoming Events